8 Reasons to Use a 2D Mascot for Your Branding
---
Companies are often skeptical, wondering if 2D animation or mascots would really be a good fit for their business. In many cases, they are! Indeed, they have a huge outreach capacity, and the technology is now accessible, so it reduces production costs.
So why would you use a mascot or 2D animation for your brand?
1 – TO MAKE IT EASIER TO PROVIDE TRANSLATIONS IN OTHER LANGUAGES
With 2D animation, your video capsules or poster advertisements will (almost) never looked disconnected from your target audience when they're translated. Think about it: a video featuring a local actor doesn't translate well for a Mexican audience, say.
2D animation makes it all much simpler. Just record a translated script, and then the video can be exported into another language. Your audience can come from anywhere in the world and identify with the same character!
The technology has reached the point where we can synchronize an animated character's lips to a prerecorded sound track. That means 2D animated videos are now much faster to translate and easier to adapt perfectly for all audiences!
2 – 2D ANIMATION STANDS OUT
I'm sure you have a competitor whose branding is… shall we say lacking? Perhaps something like this video? I challenge you to watch the whole thing from beginning to end!
For nearly 35 years, corporate videos have all looked the same. Dare to stand out! 2D animation provides you with the opportunity to create a unique style that'll easily set you apart from the competition.
3 – IT CAN EASILY BE REPURPOSED FOR PRINTED MATERIALS
If you create a universe with characters, you'll have a brand that stands on solid ground. Since most 2D animation elements are in vector formats, they can be edited multiple times and resized without any quality loss.
That means you can easily turn 2D animated video elements into all sorts of derivatives: posters, web banners, cards, advertisements, social media posts, etc.
Just think of Koodo's Mexican wrestler!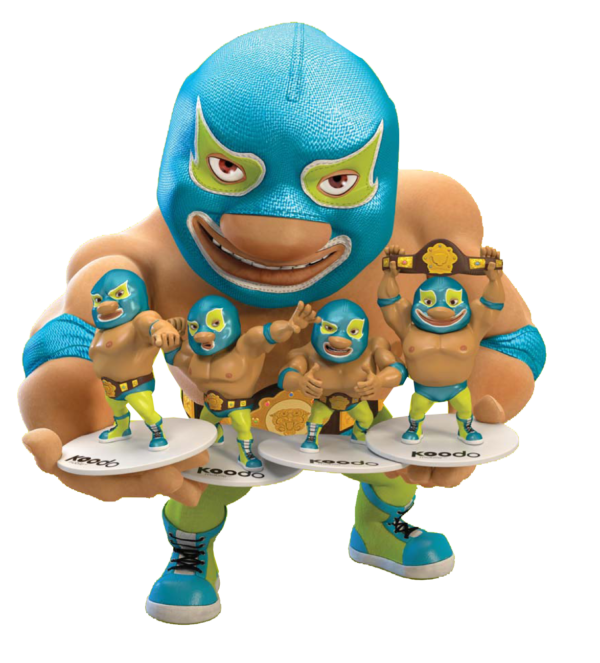 Yes, I know, he's a 3D character, but you get the point. He provides uniformity and is so endearing! Koodo uses its mascot in many areas worldwide and only localize texts.
4 – IT'S CHEAPER THAN 3D
Speaking of the devil: 3D is really expensive, especially for animated characters. 2D animation can end up being 20% to 70% cheaper. Bear in mind that it's harder to recycle 3D images: the benefit listed above pretty much only applies to 2D vectorial graphics.
So why is it cheaper? Just because in 3D, you need to render the images. This computing process takes a lot of time. There are no such constraints with 2D.
5 – THE MORE YOU PRODUCE, THE CHEAPER IT GETS
Compared to video shooting, animation has this interesting advantage that it has a predictable linear cost. Since it's all computer generated, with the work being done by a postproduction team, the only variable is labour time. 2D animation therefore has what we call a quality per minute cost and can therefore be projected linearly. You'll therefore save if you do more.
And if you were wondering, video footage has step costs: you need to mobilize a film crew, actors and equipment for each day of shooting.
6 – TO USE FOR E-LEARNING PURPOSES
We're seeing more and more businesses using e-learning to retain and train their employees. Unfortunately, it often doesn't amount to much more than a series of PowerPoint presentations rattling out questions.
Adding animated characters and moving icons can liven up your presentation and ensure you grab the audience's attention for longer periods of time!
7 – TO CREATE A VIDEOGAME or an Interactive App
Interactivity has become key in ensuring customer retention. Perhaps creating an interactive app, an e-book or augmented reality is even already part of your strategy! When you already have a 2D animation character, it makes total sense to use it as a protagonist for your products. By turning it into the narrator or presenter, you'll provide your audience with visual and narrative consistency.
8 – IT'S NOT JUST FOR KIDS
A lot of people think mascots are too childish and won't appeal to their target audience, which is "too serious for a bunch of cartoon characters."
Really? Is that the impression you're left with when thinking about KFC, the Green Giant, Mr. Net, Smarties, Firefox, Mailchimp, Total, etc…
I certainly agree that mascots don't fit into all industries. I think what's important is that you have a good think about your own and find a way through which you can stand out. 2D animation can be an easy way to do so.
Please send along any questions you might have left and share ideas you had when reading this post!
---